Farmers have fought through barricades and tear gas to enter Delhi on India's Republic Day.
Tens of thousands of them are driving into the city on tractors to protest against new market-friendly reforms.
In some places, farmers broke barricades and diverted from the route they had agreed with the police.
Tuesday's rally is the latest episode in a months-long protest, one of the longest farmers-led agitations India has ever seen.
The government has offered to put the laws on hold, but farmers say they will settle for nothing short of a repeal.
Farmers have been striking for two months at Delhi's borders, demanding a roll back of the new laws.
Police agreed to allow Tuesday's rally after several rounds of talks on the condition that it would not interrupt the annual Republic Day parade.
Tuesday's rally was expected to begin from six entry points to Delhi and police barricaded all of them and gave farmers specific routes for their rally. The routes involved roads on the outskirts of the city.
But farm groups at three different borders – Singhu, Tikri and Gazipur – broke through barricades and began marching into the city, on foot and in tractors.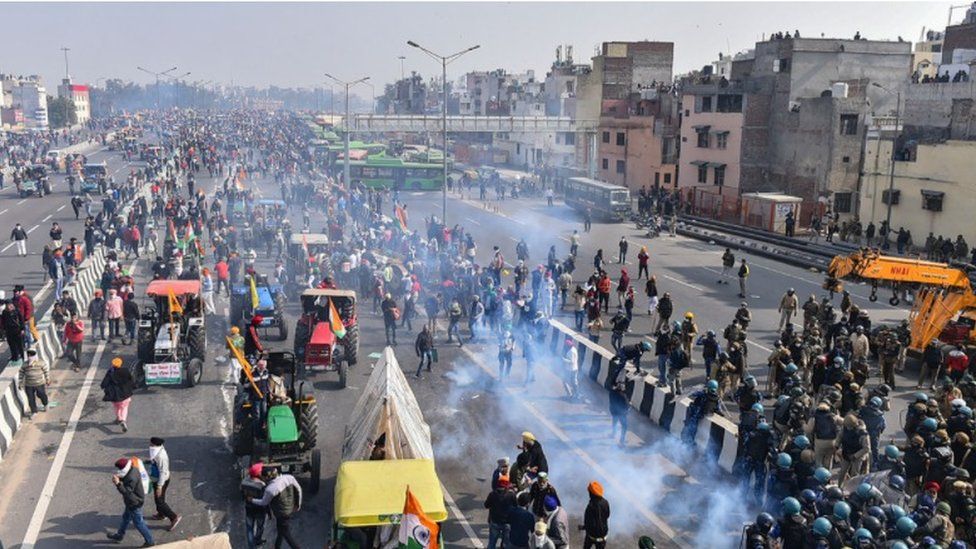 "Mr Modi will have to take back these black laws for sure," a farmer near the Ghazipur border told the BBC's Salman Ravi. He added that all the farmers had left the border and are headed towards central Delhi.
More scuffles are expected along the way as they are not allowed in central Delhi where official celebrations are taking place.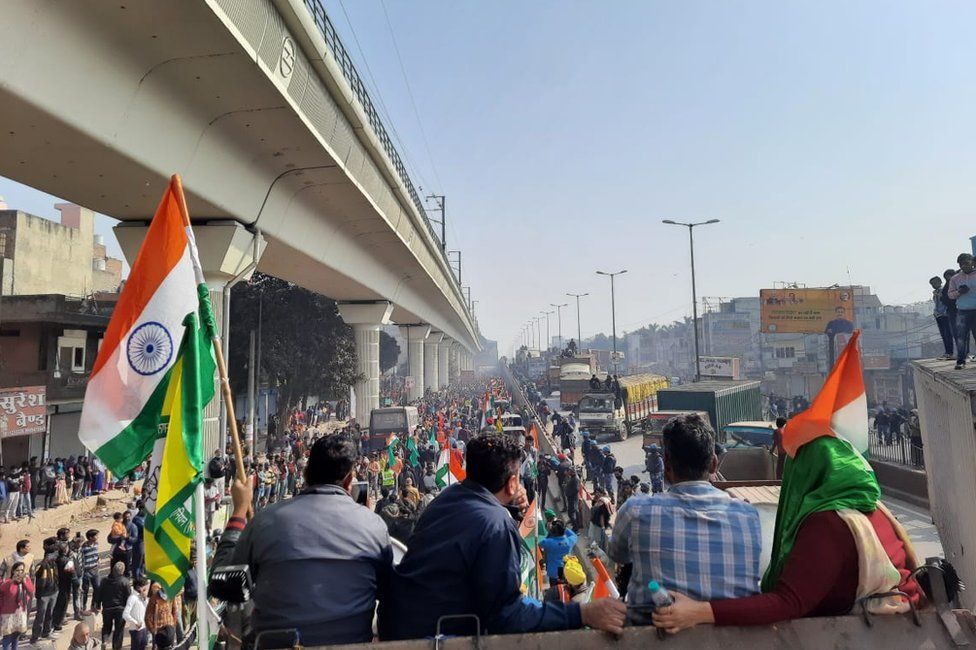 The annual parade involves armed forces showcasing their latest equipment and floats from several states presenting their culture on a national stage. The parade is shorter and more muted this year due to the pandemic.
The laws, which seek to further open up agriculture to the free market, sparked protests even as they made their way through parliament in September. While Prime Minister Narendra Modi and his Bharatiya Janata Party-led government defended the reforms, farmer groups likened them to a 'death warrant' that made them vulnerable to corporate companies.