The coronavirus epidemic continues to disrupt life across the world. The disruption is much lesser in African countries that have recorded cases as compared to for example Italy where the entire country is almost in a lockdown.
The impact on gatherings is an area that most African governments have moved to control. From the playing of football matches behind closed doors, the banning of scheduled sports events and even in the case of Kenya banning athletes from leaving the country.
Our main coronavirus hub is seized with major developments around the epidemic. This piece will focus on the impact on sports given a raft of incidents that have been undertaken.
Eight countries suspend football leagues
Ghana became the eight African country to have its football league suspended after the president announced a ban on public gatherings on Sunday evening.
Shortly after, the football association in a statement said it had suspended all football competitions across the country. "Public gatherings are banned in Ghana. Funeral gatherings shouldn't have more than 25 people," President Akufo-Addo announced.
Algeria became the seventh African country on record to have suspended its league on Sunday. The measure forms part of nationwide lockdown on sporting competitions.
Other countries that have suspended football competitions officially are: Egypt, Morocco, Kenya, DRC, Gabon, and Sudan. The South African league body said it was meeting to decide on a way forward after President Ramaphosa announced a ban on public gatherings.
Meanwhile the continent's football governing body, CAF, and the world body, FIFA, have all advised that competitive fixtures be suspended in the wake of the coronavirus outbreak.
Statement: FIFA recommends all international fixtures be halted
In light of the current situation concerning the Coronavirus, the Bureau of the FIFA Council has decided that the general football rules which normally oblige clubs to release players for national team matches will not apply for the up-coming international windows in March/April.
The situation is rapidly evolving across the world and various international travel restrictions have already been imposed by different public authorities.
FIFA understands that to hold the matches under current circumstances might not only present potential health risks to players (and to the general public) but would also, most likely, compromise the sporting integrity of such matches insofar as certain teams may be deprived of their best squads whilst others may not.
To avoid any unnecessary health risks and also situations of potential sporting unfairness, we therefore recommend that all international matches previously scheduled to take place in March and April should now be postponed until such time that they can take place in a safe and secure environment, both for players and for the general public. The final decision on this issue rests with the respective competition organisers or relevant member association in case of friendlies.
Tedros Adhanom Ghebreyesus✔@DrTedros · Mar 12, 2020
I am grateful to @FIFAcom President Gianni Infantino for his commitment to support @WHO & the world, through football, to Be Ready and safe from #COVID19. Starting today, we are launching a drive to use the power of sport to protect all countries against #coronavirus.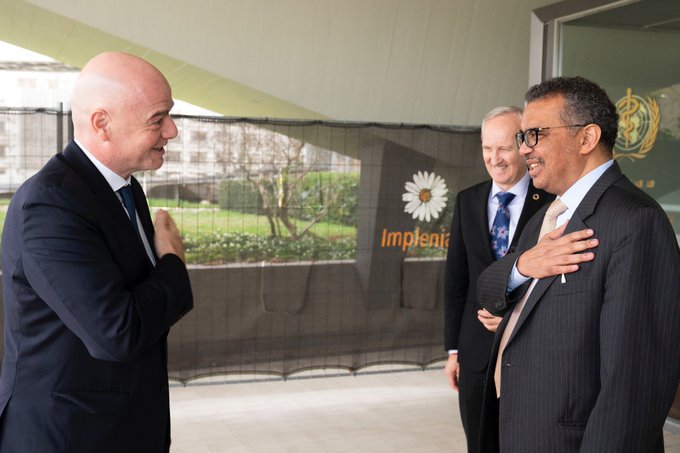 Tedros Adhanom Ghebreyesus✔@DrTedros
.@WHO & @FIFAcom will work with footballers, coaches, confederations, federations, clubs & all other stakeholders to raise awareness on how people can stay safe & support each other to fight #COVID19. Through teamwork & by putting public health first we will beat #coronavirus.